Description
Two fabulous and very artistic pieces, perfect for any snake lover and they would make a nice addition to any collection!
The set consists of a preloved pretty gold plated necklace with two snakes offering you an apple. And a nice preloved gold plated mesh snake bracelet of a snake embracing your wrist. Both items are unsigned. Both were probably made in the late seventies, early eighties.
Historically, serpents and snakes represent fertility or a creative life force. As snakes shed their skin through sloughing, they are symbols of rebirth, transformation, immortality, and healing. In this piece the two snakes offer you an apple. The apple is an ancient symbol of fertility and, especially in the case of the red apple, of love. Because of its spherical shape, it was occasionally interpreted as a symbol of eternity. The apple is frequently encountered as a symbol of spiritual knowledge, especially in the North European folk-traditions and mythology.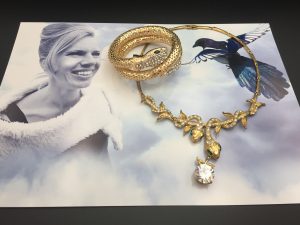 The overall condition of the pieces is excellent. Besides minimal normal surface wear, there is no serious damage to the gold plating. All rhinestones are present.