For almost 15 years I have been a Snowboard Instructor and Fine Arts Audio-Visual Design teacher at a cute and small college nearby my city of birth Amsterdam. In 2014 I became ill. With the big '40 years old' in sight, I decided to alter my life and try to find a way to fill the second phase of my life, with the same amount of love and joy as I did have being a college teacher. I still miss my cute and naughty students and workaholic colleagues every day.
But I enjoy each day now, when I can be close to my two little girls Roxy and Ruby who make me laugh every day. Recovering from hospital treatments during the past five years made me realize I have chosen the right path to enjoy life again; studying to become a master goldsmith and an excellent gem cutter.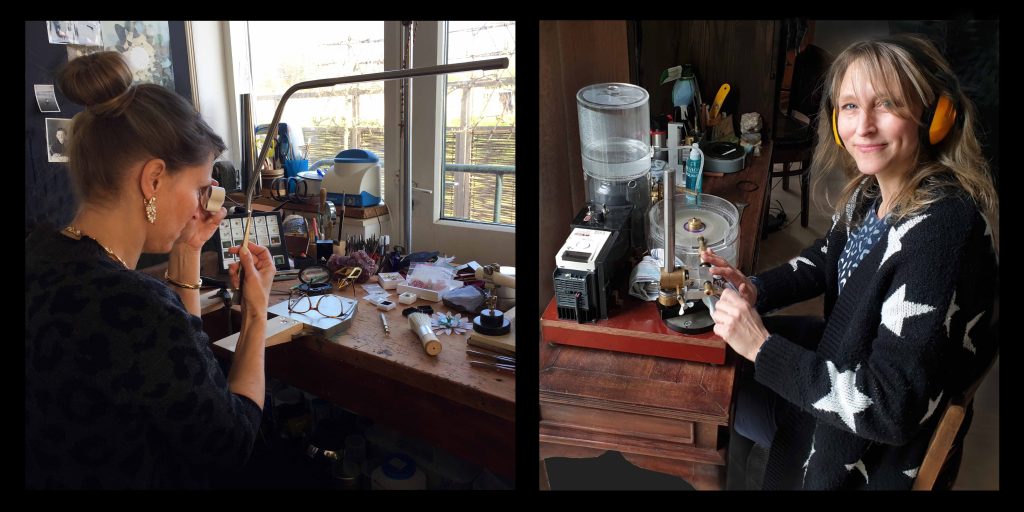 I love my new job; it makes my creative brain bloom again and my heart swell with pleasure.
I would love to design your wedding ring, anniversary parure or personalized birth bracelets and announcements cards. To design a special gift for your mom and loved ones, or to alter some pieces of inherited jewelry to remember your great grandparents. To make old-fashioned things look brand new and ready to wear for decades, to pass on to your lovely daughters.
Do you have some costume jewelry pieces that need a clean-up or repair? Get in contact and we'll decide what will be the proper steps to take, to rescue the pieces and make them shiny and wearable again for decades to come!
Contact Iris: hello@irislovesdesign.com
I hope to meet you one day as my customer, feel free to contact me anytime. Browse to my 'Contact' page.
So long!