With so many mass-produced jewels on the market, there's nothing more special than presenting someone with a piece of jewelry especially made for them. Like an engagement ring or wedding band, that can't be found or seen on anyone else's finger. Bespoke rings are more meaningful than ready-made rings because they offer you the opportunity for personalized expression.
For me, bespoke design, is a lovely experience and creates a bond between the customer and the designer, that can last forever. We are accompanying a piece from concept to creation. Understanding the process of creating a design, seeing the item at every stage of its evolution, the developing process might become a major part of the pleasure for you as well. Important about the final design is that it will match and compliment your personality.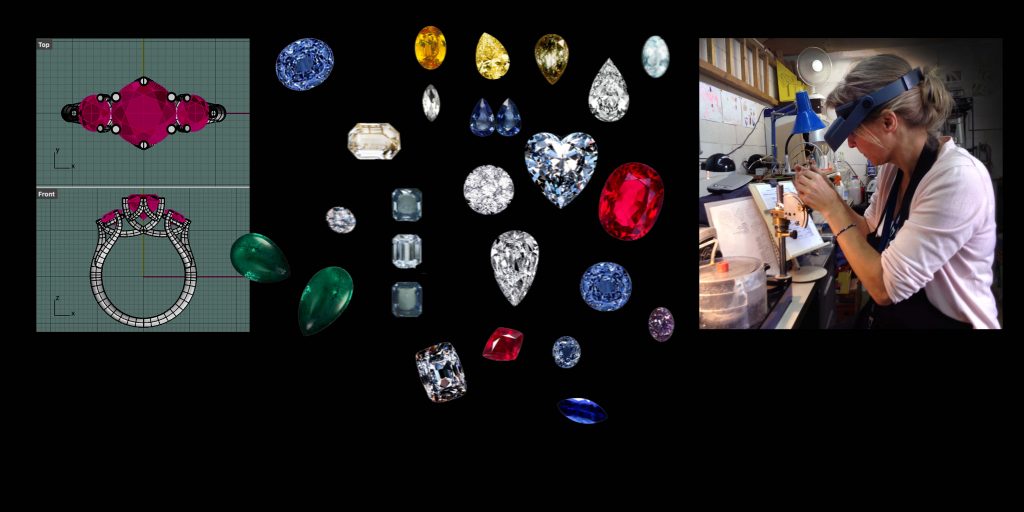 Ethical production and fair trade are important to me. The bespoke route can give you more control on where and how your precious metals and gemstones are sourced. I like that.
I am passionate about the goldsmith craftmanship. To solder a model in silver or using wax carving, followed by several techniques in lost wax casting to make the final design in gold. This way you are able to use old techniques as enameling without worrying about soldering that might go bad.
Sometimes customers come with ravishing inherited pieces of jewelry, too big to wear or just simple old-fashioned pearl or coral necklaces. Together we can make preloved jewelry items new 'one of a kind' pieces of jewelry. The only one in the world and very special to you to remember your loved ones.
Some customers come with a special stone they have found on a memorable place on earth. Starting a design from the stone, we can decide how the stone can be cut, shaped or carved. And set in a piece of jewelry who enhances the stone shape and color.
Speaking of color. I absolutely love diamonds and pearls. Especially Akoya and Tahitian pearls with their wide range of hues. But since I discovered making fancy gem cut patterns in colored gemstones, my love shifted to this wonderful world of vivid colored gemstones. Each of these mineral colors has a wide range of hues and each have their own impact. In each person colors tend to trigger specific emotions. Let's find out which minerals with pretty hues of colors may trigger you!
Contact Iris: hello@irislovesdesign.com